Enhance yours brands integrity while mitigating
email spam risks with our spam validation.
In-depth validation against our comprehensive list of spam risk keywoards and phrases.
Prevent being flagged as spam.
Our spam validation thoroughly examines and validates the textual content of your email by cross-referencing it against an extensive database comprising over 500 keyword combinations that are well-documented for their propensity to heighten the risk of spam classification.

This comprehensive assessment ensures that your email content adheres to established guidelines and minimizes the likelihood of being flagged as spam, enhancing its deliverability and ensuring it reaches your intended recipients' inboxes.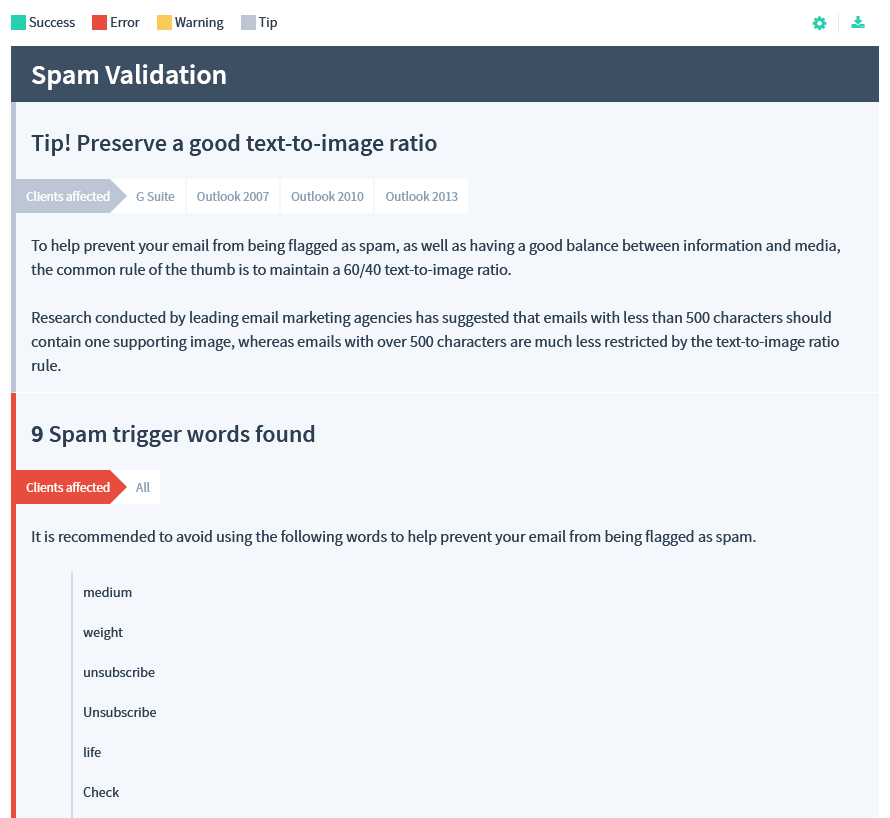 Harness our core capabilities to drive your success.
An overview of all available features and functions:
Analysis of keywords and phrases used within text, links, and image attribues
Comprehensive reporting which include descriptive fixes and improvements
Validation across all popular email clients and webmail services
Validation for mobile, tablet, and desktp email specific clients
Download, save, or print all validation reports to your computer.
Supported Email Clients and Webmail Services
Our spam validation service conducts markup and content checks for the following email clients and webmail services.
Android Mail 2.3
Android Mail 4.2
Android Mail 4.2.2
AOL Desktop
AOL Alto Android App
AOL Alto iOS App
AOL Mail
Apple iPhone
Apple iPad
Apple Mail
Apple Mail 6.5
BlackBerry
Gmail
Gmail Android App IMAP
Gmail Mobile Webmail
Google Inbox
Google Inbox Android App
Google Inbox iOS App
G Suite
GMX.de
IBM Notes 9
Lotus Notes 8.5
Office 365
Mail.ru
Outlook 2003
Outlook 2007
Outlook 2010
Outlook 2011 Mac
Outlook 2015 Mac
Outlook 2016
Outlook 2019
Outlook iOS App
Outlook.com
Outlook Express
Postbox
Windows 10 Mail
Windows Live Mail
Windows Phone 8 Mail
Windows Phone 8.1
WEB.de
Yahoo! Mail
Yahoo! Mail Android App
Yahoo! Mail Classic
Yahoo! Mail iOS App
Yandex