Experience the advantages of our our readility
analysis and validation of your email's typography.
In-depth validation of your email's typography, font sizing, and CSS styling.
Enhance your email's readability.
Our font validation process systematically examines the entirety of your email's HTML markup, including any client-specific tags, to rigorously assess compatibility and styling, all with the primary objective of enhancing readability for your valued readers. Following this meticulous examination, we compile a comprehensive report that not only identifies errors and warnings but also provides detailed, descriptive solutions and improvements to address any issues detected, ensuring your email's typography is optimized for an exceptional reader experience.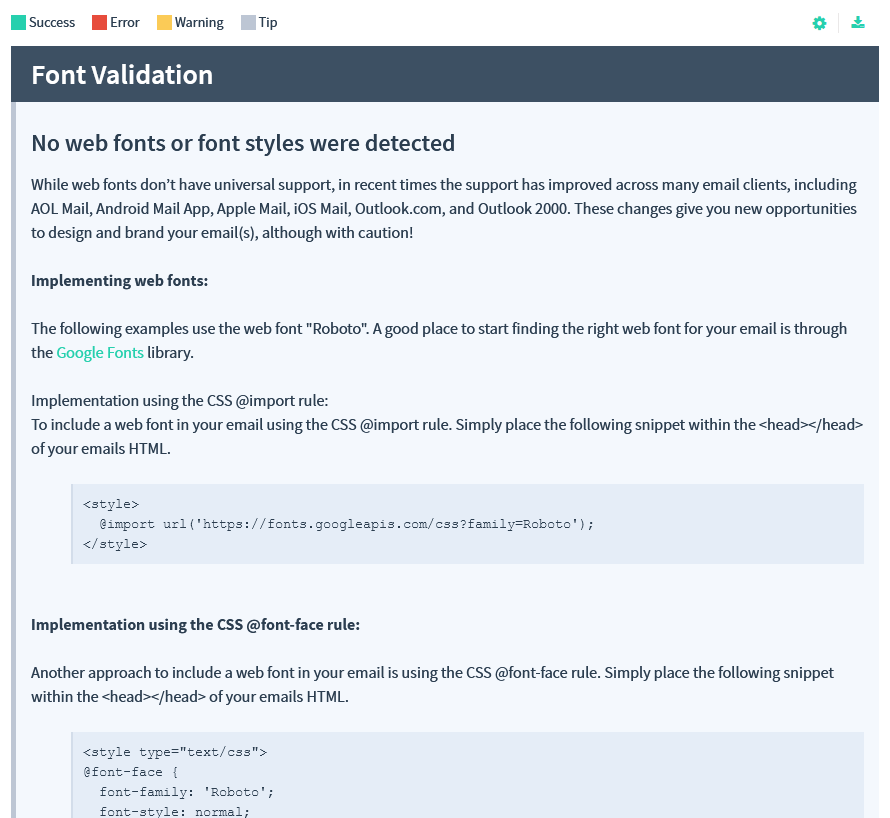 Harness our core capabilities to drive your success.
An overview of all available features and functions:
Font sizing, CSS styling, and client-specific rendering analysis
Comprehensive reporting which include descriptive fixes and improvements
Validation across all popular email clients and webmail services
Validation for mobile, tablet, and desktp email specific clients
Download, save, or print all validation reports to your computer
Supported Email Clients and Webmail Services
Our font validation service conducts markup and content checks for the following email clients and webmail services.
Android Mail 2.3
Android Mail 4.2
Android Mail 4.2.2
AOL Desktop
AOL Alto Android App
AOL Alto iOS App
AOL Mail
Apple iPhone
Apple iPad
Apple Mail
Apple Mail 6.5
BlackBerry
Gmail
Gmail Android App IMAP
Gmail Mobile Webmail
Google Inbox
Google Inbox Android App
Google Inbox iOS App
G Suite
GMX.de
IBM Notes 9
Lotus Notes 8.5
Office 365
Mail.ru
Outlook 2003
Outlook 2007
Outlook 2010
Outlook 2011 Mac
Outlook 2015 Mac
Outlook 2016
Outlook 2019
Outlook iOS App
Outlook.com
Outlook Express
Postbox
Windows 10 Mail
Windows Live Mail
Windows Phone 8 Mail
Windows Phone 8.1
WEB.de
Yahoo! Mail
Yahoo! Mail Android App
Yahoo! Mail Classic
Yahoo! Mail iOS App
Yandex